You are previewing:

Trenčín Region (travel guide/bedeker)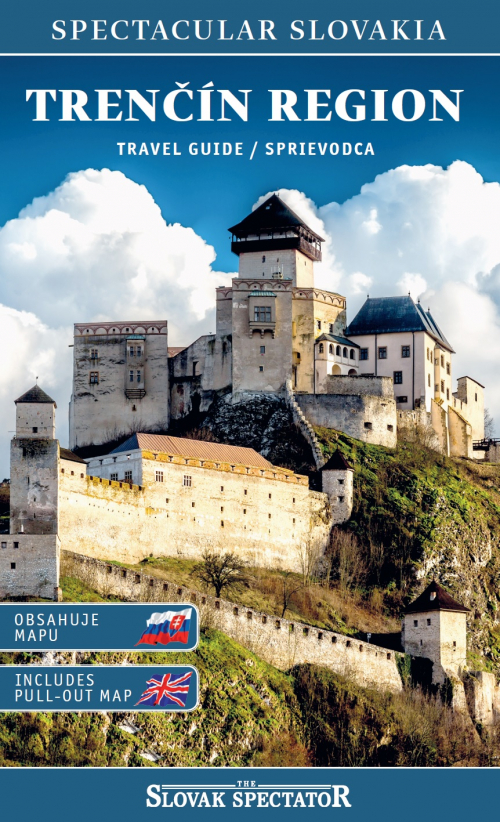 Trenčín Region (travel guide/bedeker)
Traipse through a region tangled in tales of romance, torture and prestige.
| | |
| --- | --- |
| ISBN | 9788089988013 |
| Year of publication | 2018 |
| Page count | 112 |
| Publisher | The Rock - The Slovak Spectator |
| Language | + |
| Width | 5.39 in (137 mm) |
| Height | 8.86 in (225 mm) |
| Depth | 0.24 in (6 mm) |
| Weight | 0.47 lb (213 g) |
Other travel guides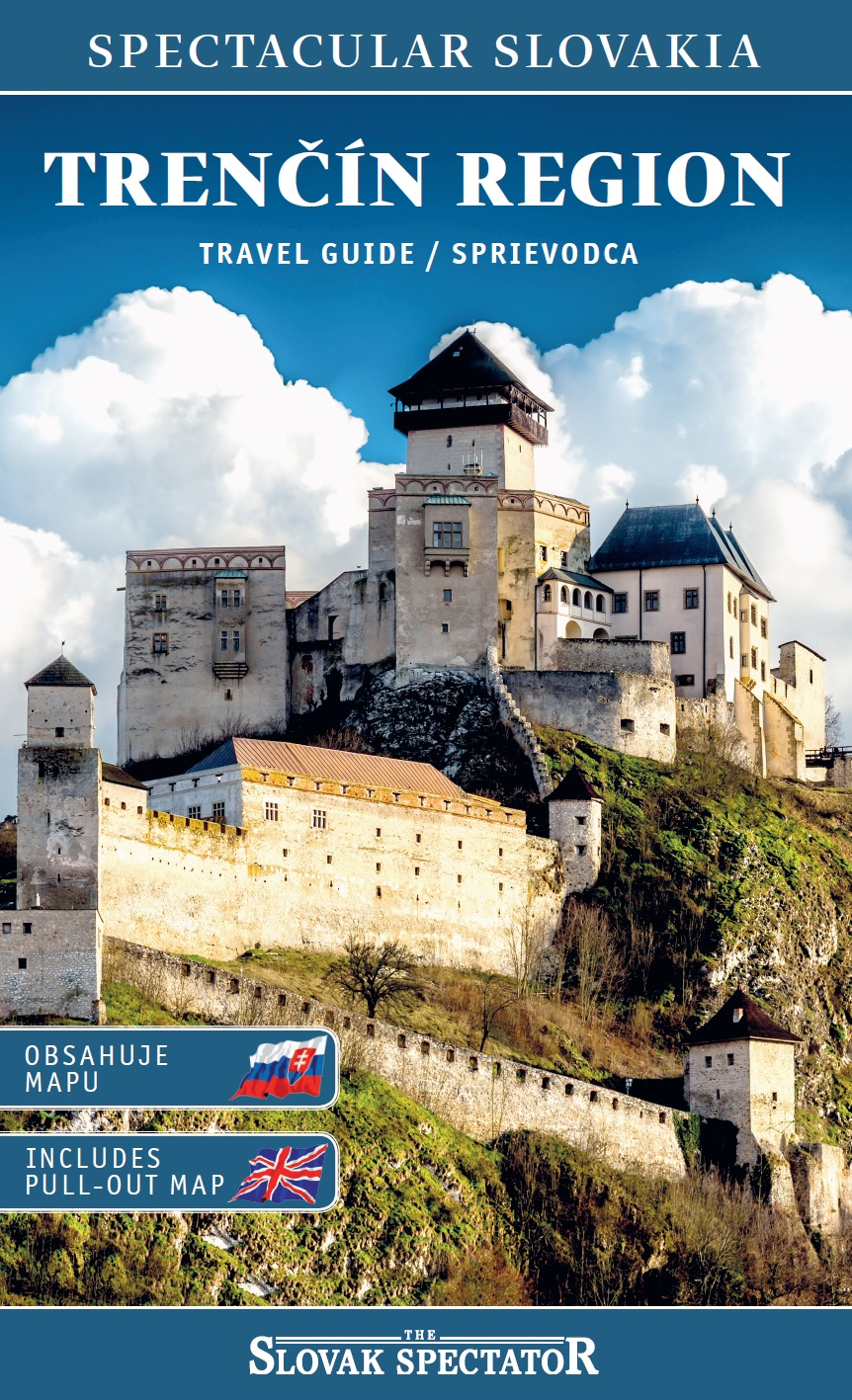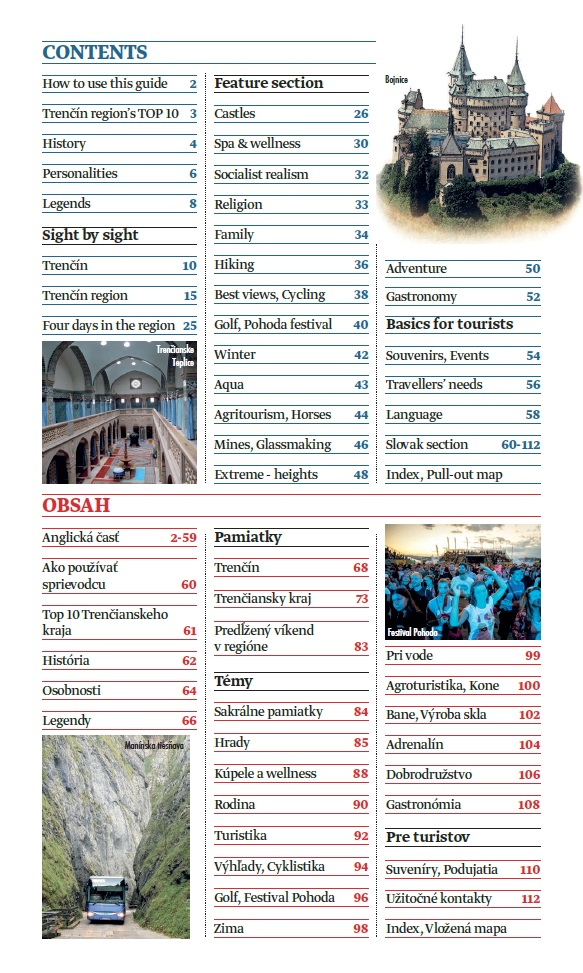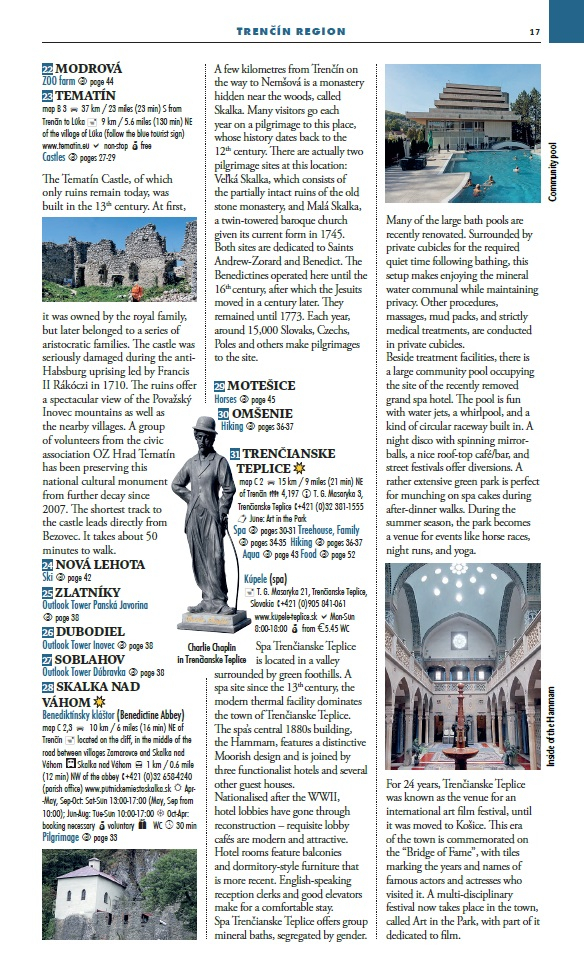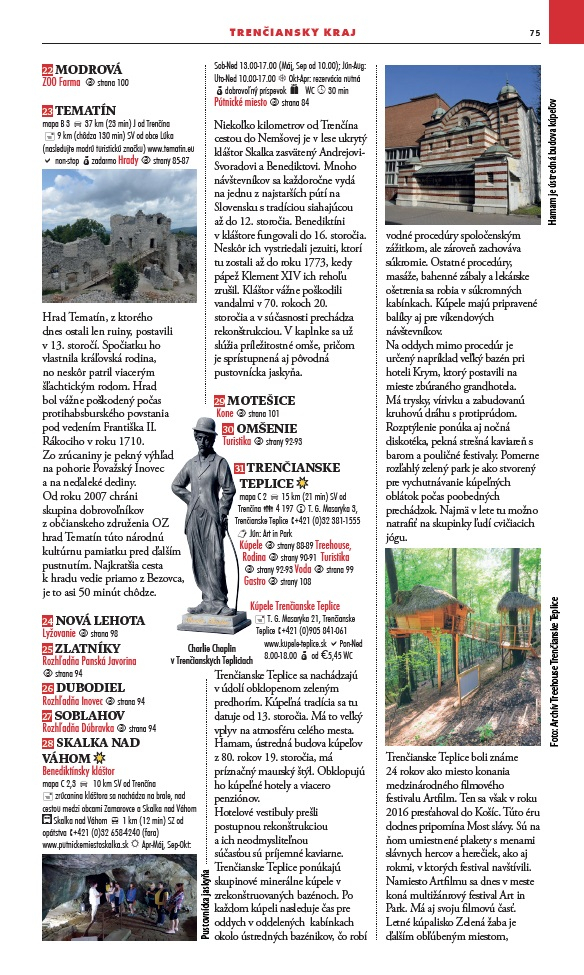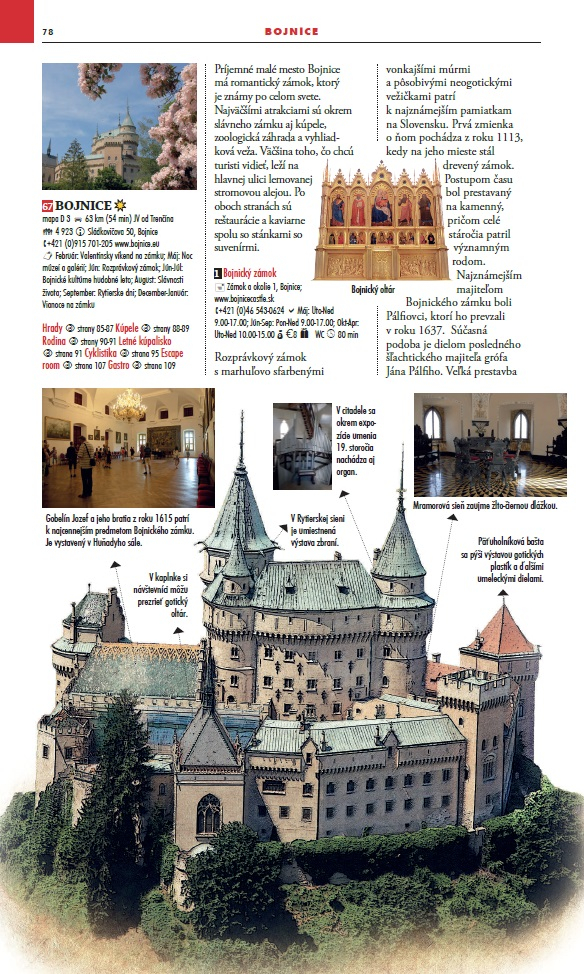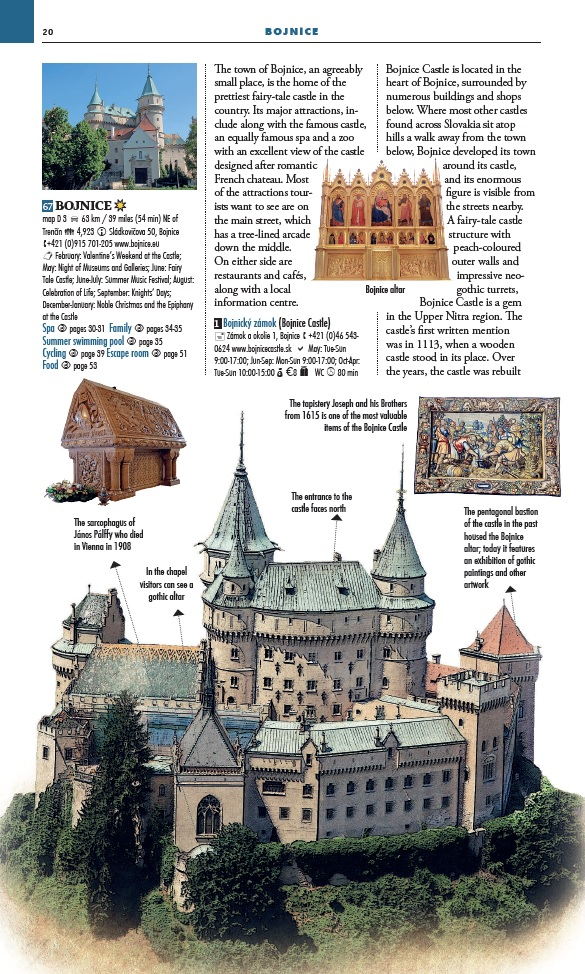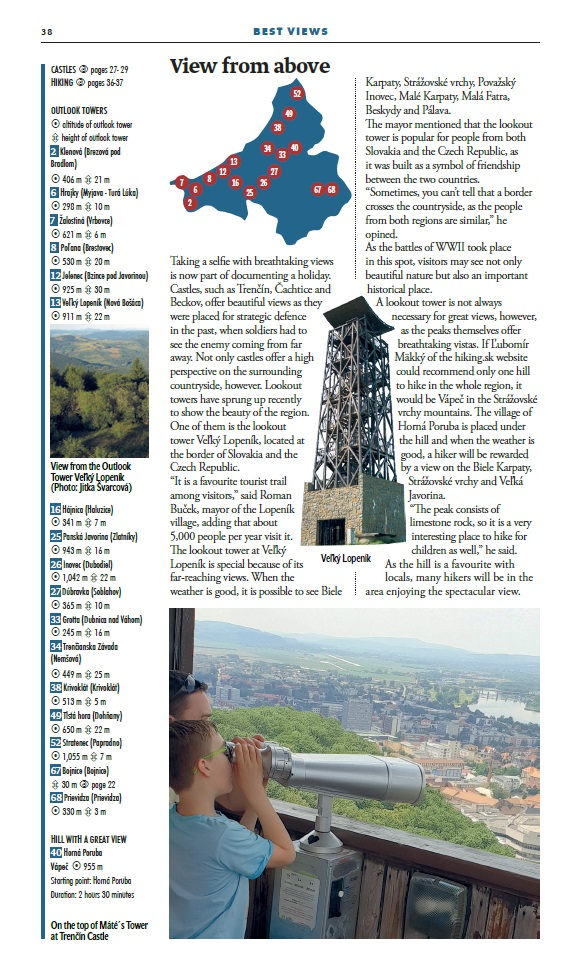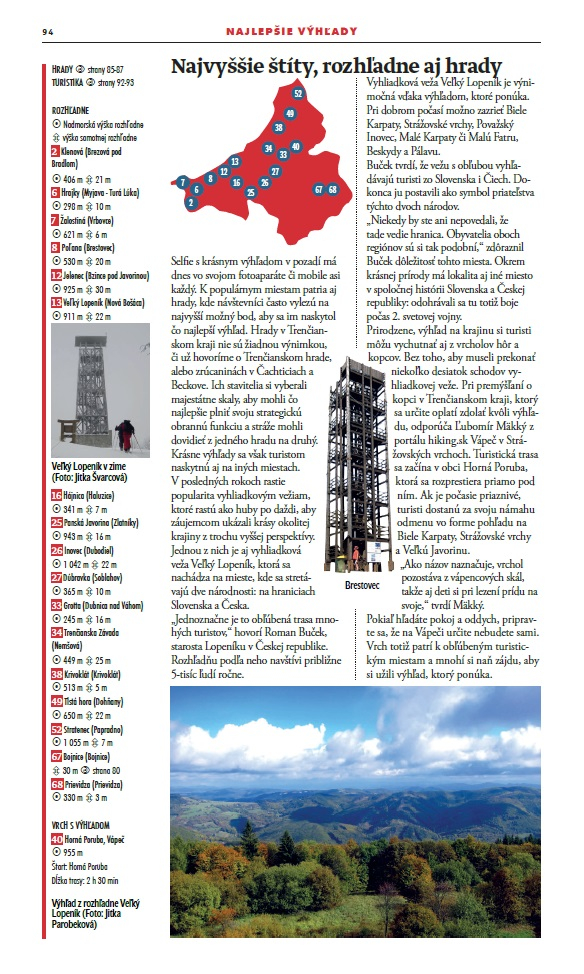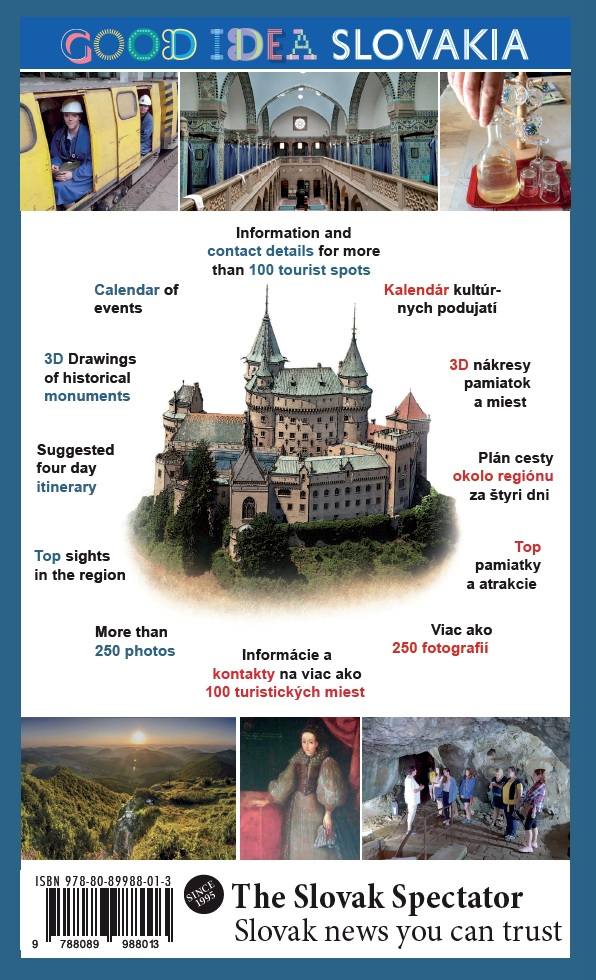 Trenčín Region (travel guide/bedeker)
Traipse through a region tangled in tales of romance, torture and prestige.
The first half of the English-Slovak travel guide about the Trenčín region is written in the English language.
Situated on a precarious cliff, Trenčín Castle, idyllic in appearance and rich in history, is one of the most famous landmarks in the Trenčin Region. However, this mystical part of Slovakia is not just riddled with tales of ruthless royals and tortured lovers. Through this pocket-sized guide, you'll walk in the shoes of historical giants Ľudovít Štúr, Alexander Dubček and Milan Rastislav Štefánik, all of whom hail from the Trenčin Region.
Shudder at the mention of The Bloody Countess, don a miner's helmet and headlamp as you explore the depths of the earth and recover with a glass or two of Trenčianska medovina, the drink of the gods.
Your trip through Trenčin will be action-packed yet organised thanks to this guide, which includes:
3D animations
more than 250 photographs
detailed information on landmarks
a folding map
a list of upcoming events
15 travel feature stories (topics such as castles, family trips, adventure, adrenaline)
ancient tales and enduring legends of the region
Slovak-language part, in which the photographs are different than those in the English part
Sing to your heart's content in July at the famous Pohoda Festival, bid adieu to autumn in November during Bojnice Castle's unconventional jack-o-lantern tour and relive the illustrious legends of the Trenčin Region all year long with the help of our trusty, bilingual guide.
The first half of the travel guide is written in English, the other half in Slovak. Both parts have the same content, but differ in both the language and photographs they feature. The large array of photographs gives a more diverse representation of the region.
Show more
| | |
| --- | --- |
| ISBN | 9788089988013 |
| Year of publication | 2018 |
| Page count | 112 |
| Publisher | The Rock - The Slovak Spectator |
| Language | + |
| Width | 5.39 in (137 mm) |
| Height | 8.86 in (225 mm) |
| Depth | 0.24 in (6 mm) |
| Weight | 0.47 lb (213 g) |